This benefit day for Maya was a great success and has raised nearly 7,000 euros!
Pamela Hahn:We had on the day about 800 adults and 300 children after our recruiting visit. There were 50 cakes, 440 sausages, 100 Bava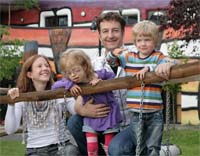 rian white sausages and steaks 250 sold. There was also still 210 liters of Bavarian beer and soft drinks sold around 29 kraten
The party was for Maya is a fantastic experience. We started the morning at 9 am with a church service for children. Then there was 13.00 Bavarian brass music and entertainment on stage.13.00 Dr. Zenker of the University Hospital of Magdeburg gave a fantastic presentation on the Marshall-Smith syndrome and similar syndromes.
At 14:00 there was entertainment for children including a youth brass band, a singer from a children's musical and a writer of children who read some passages from her latest book.There was also pony rides, children's face painting, mini golf and the school presented fun games in the garden.