Henk-Willem Laan (1975) - Secretary / Treasurer
Mayas Benefiz Day raised almost 7000 euros
This benefit day for Maya was a great success and has raised nearly 7,000 euros!
Pamela Hahn:We had on the day about 800 adults and 300 children after our recruiting visit. There were 50 cakes, 440 sausages, 100 Bava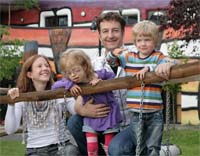 rian white sausages and steaks 250 sold. There was also still 210 liters of Bavarian beer and soft drinks sold around 29 kraten
The party was for Maya is a fantastic experience. We started the morning at 9 am with a church service for children. Then there was 13.00 Bavarian brass music and entertainment on stage.13.00 Dr. Zenker of the University Hospital of Magdeburg gave a fantastic presentation on the Marshall-Smith syndrome and similar syndromes.
At 14:00 there was entertainment for children including a youth brass band, a singer from a children's musical and a writer of children who read some passages from her latest book.There was also pony rides, children's face painting, mini golf and the school presented fun games in the garden.
Rare but strong together!
MSS families worldwide join together to fight for the same purpose: to give their child with the Marshall-Smith syndrome (MSS) a better life.
MSS is a rare and serious syndrome. Many MSS children die in early childhood from severe respiratory problems. They all have an accelerated bone aging, mental retardation and often eye / ear problems. The problems can vary from patient to patient, but the children with MSS have one thing in common: a very cheerful zest for life!
In connection with all joint families worldwide the MSS Research Foundation organizes contact with fellow sufferers, initiatiates medical research and works on standards of care. All activities are dedicated to improving the quality of life.
Join us and help these beautiful kids!
What is MSS?
Marshall-Smith syndrome is a very infrequently described syndrome.
The Marshall-Smith syndrome (MSS) is a very infrequently described syndrome. The syndrome has been described for the first time in 1971. Since then, about 50 children and adults with the syndrome are known in the medical literature worldwide.
The syndrome is characterized by:
- Abnormal bone formation, showing in accelerated bone formation in the hands and feet;
- Problems with growth and nutrition;
- Difficulty breathing;
- Mental and motor retardation;
- Unusual facial features as clearly visible forehead, shallow orbits, retracted chin, sunken nose bridge and bluish eye whites;
- Fractures that occur without obvious reason from the age of 5 years.
Standards of Care
The Standards of Care for the Marshall-Smith Syndrome are ready! We are very proud of this great document. Creating standards of care for the MSS fits the objectives of the MSS foundation. It is a logical step in the efforts to strengthen the position of the patient and giving advice and information to families. It is a result of efforts by Sonja Bracke and the Dutch umbrella organisation VSOP. The Fund PGO / Dutch Ministry of Health has funded this two-year program. The standard of care are now available as an interactive pdf in Dutch. Soon there will be an English version. We are now working on a patient version. We expect it will be ready in 2016.
Download: Standards of Care (in Dutch)